💎✨Here I want to write something for everyone. Thank you for your continued support and love for our store "Captivasy". We sell some of our watches for less than $30 during this 3rd birthday celebration. For a limited time!
Here are some questions from everyone, which I will explain to you all.
💎You're cheating! Moissanite is not a diamond!
Moissanite is indeed not a diamond. Nowhere on the product page does it mention that we use diamonds and we detail the moissanite information.
💎Only $28? You must be scammers.
This $28 watch is a discounted price for a limited time. We have many other styles of watches in our store that are just as sparkly.
Description
Encounter at a certain moment, shining in every moment.

This stylish watch subtly stands out from the crowd. Imported and constructed with Switzerland quartz movement to ensure accurate timing.
It is easy to adjust based on wrist size to get a comfortable wearing experience. Suitable for the wrists of 3 inches to 8 inches.
In order to exhaustively show all the details of the goods, so the photos as far as possible to reduce the interference of lighting, ambient light, and filters, resulting in photos compared to the real thing will be much darker.
It is recommended to view the video to feel the true sparkle of the product.
Our jewelry offers irresistible beauty and timeless style.
Details
Material
Side Stone
Stone Type : Moissanite
Number of Stones: 127
Average Carat Weight: 0.2 ct
Stone Shape: Round, Princess
Stone Color: Diamond White
Stone Size: 2.5*2.5, 3.2*3.2 mm
Information
Dial Diameter: 29mm
Dial Thickness: 8mm

Length: 10 inches

Adjustable.

Water Resistance: 3ATM
Dial Mirror Material: Mineral Reinforced Glass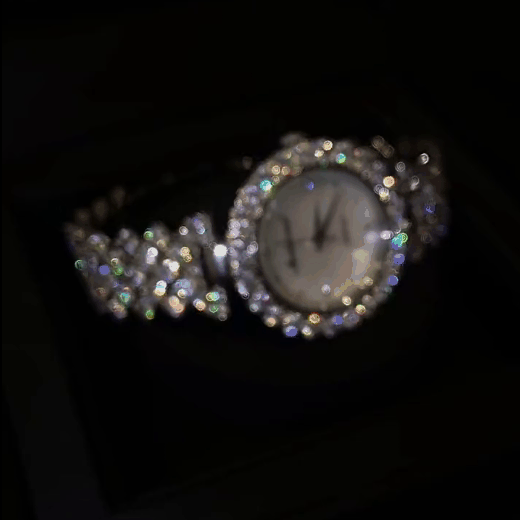 Metal: Stainless Steel.
Platinum/Gold-filled (hypoallergenic).
Platinum/Gold-filled is a pressure-bonded layer of rare metals. It is durable, won't chip or flake is tarnish-resistant, and is a great alternative to "karat" gold that is reasonably priced. Looks great and if taken care of should last for many years.
No tarnishing ever & no ugly marks. They will never tarnish or fade, they will never leave any black or green marks and they will never cause any allergy or redness. They are beautiful, of very high quality and also the best price on the market.
Lab-Created: Yes.
The term "lab-created" refers to synthetic gems that have the chemical and physical properties of natural gems but are manufactured in a laboratory instead of naturally formed and mined.
With the Heart & Arrow cutting effect, every diamond restores the item's natural beauty and extreme brilliance. We use four-claw inlay technology. The shiny diamond is firmly embedded in the bracelet, reducing the risk of the diamond falling.
Adjust the time button, pull out a file is to adjust the calendar, pull out the second gear is to adjust the pointer, after the adjustment, all the heads are pressed in, time and calendar can be normal operation.
About Moissanite
It's Not Diamond. It's Moissanite.
Using innovative, cutting-edge technology we have been able to create Moissanite that cannot be differentiated from diamonds by the naked eyes.
What Makes Moissanite So Special
Unscratchable, And can live for a lifetime.
Diamonds are the hardest known mineral and receive a 10 on the Mohs Scale of Hardness.
On the Mohs scale, Moissanite scores 9.25 - 9.50. Because of this exceptional score, Moissanite is very durable and ideal for everyday wear.
More brilliant than diamond itself.
Unbelievably, Moissanite is more brilliant than Diamond itself with a refractive index of 2.62 that can make it shine like you never seen before. Diamond refractive index is 2.42.
Cannot be differentiated from diamonds with the naked eye Yet Moissanite is Only 1% - 10% Of Diamond Price!
Moissanite is very rare in nature. Our Moissanite is a Lab-grown gemstone and has zero affiliations with the conflicted history of Diamond.
Diamond mining causes environmental devastation. There are many unethical labor practices and violence.
We've Got You Covered!
Captivasy is dedicated to creating and delivering socially-responsible gemstones and fine jewelry that lasts a lifetime. Part of our promise is to provide a first-rate customer experience by making products that exceed expectations.
💖Support small brand
We offer 30 - day returns so that you can make sure your purchase is just the right choice for you. We take pride that our jewelry is produced with exceptional standards that allow us to go with such policies with confidence.

We are a small family business. My aunt Jenny is very good at customer service because she is always nice to people. So if you have any questions, feel free to ask her at [email protected].com. If you do have any questions you'll be talking to someone who really knows just about everything that's going on!
⚡Click the ADD TO CART button before we sell out.

Shipping Time
🔥Our current turnaround time is running 3-5 business days due to our products are all handmade. Although some of the items are made ahead, due to the high volume of orders, shipping times are longer than usual. If I have the item ordered in stock I will mail it out as soon as possible!
🚀Standard shipping is $5.99 and takes about 10-15 business days after shipment.
😉Thank you for your patience. Please let us know if you have any questions.