GRA Certificate
Our US moissanite has an ID card.

High-quality American moissanite, each gem with a certificate and can be traced back to its origin on the website.
Exclusive Waist Code. Use a magnifying glass of 40x or more to view it If you want to view the waist code.

Each gem has an individual identity record and only 30 points or more have a waist code.
All of our moissanite raw materials are sourced from first-tier brand suppliers in the United States. As you can see, they sell their items for dozens of times the price we do.
The raw stone itself is not expensive, the price premium of the first-tier brands is serious. We have sourced this first-tier brand quality moissanite and hope to bring you the perfect quality-price ratio for those who love diamonds.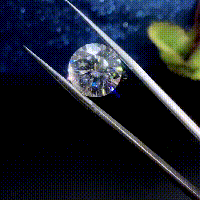 About Moissanite
Moissanite is not an imitation diamond! Moissanite is an alias for natural silicon carbide crystals, named after the French chemist Henri Moissant who first discovered it in 1893.

Moissanite is very similar to diamond in terms of fire, hardness, luster, refractive index, and physical properties. Its fire is 2.4 times that of a diamond, and moissanite has a higher dispersion and refractive index than a diamond, The hardness of moissanite is 9.25. It's second only to diamond and harder than any other gemstone.
Fire
Diamond: 0.044
Moissanite: 0.104
Glossiness
Diamond: 17.2%
Moissanite: 20.4%
Refractive index
Diamond: 2.42
Moissanite: 2.69
Hardness
Diamond: 10
Moissanite: 9.25
Lab-Created: Yes.
The term "lab-created" refers to synthetic gems that have the chemical and physical properties of natural gems but are manufactured in a laboratory instead of naturally formed and mined. Please note that lab-created gems are not the same thing as stimulants, which may look like a natural gem but do not have the gem's physical and chemical properties. (For example, cubic zirconia is a stimulant of the diamond; it does not have the physical and chemical properties of a diamond.) There can be a large price difference between lab-created and natural gemstones, depending on the efficiencies achieved in the lab-creation process.
Details
Minimum Total Gem Weight
- Queenly, 3.49 carats.
- Supernal, 3.85 carats.
- Armor, 2.97 carats.
- Above Clouds, 3.12 carats.
- Eternity, 1 carat.
- Yonder Glow, 2.03 carats.
- Cherish, 1 carat.
- Cascade, 2.46 carats.
Diamond Setting
- Prong Setting.
Dimension
- Diameter 17.4mm, Circumference 55.5mm. The default size is 7 and adjustable.
Material
- Made of S925 Sterling Silver.
Finishing
- Platinum plating, keep the ring from tarnish.
Process Description
The price of moissanite diamond rings is influenced by the following factors (4C)
Carat Weight: We used a standard 1 ct, 6.5mm Moissanite. (Main gem. Loose diamonds 0.3ct).
Clarity: Our moissanite is FL-IF grade. Subsequent processing ensures that each moissanite is flawless inside and out.
Colour: Top D color! Pure color without yellowing or whitening.
Cut:
Our Secret To Shine So Brightly.
Traditional diamond cutting standards are far from satisfying our quest for brilliance. Only when the angles follow the golden ratio will all the light shining into the diamond be fully refracted. It is because of our diligent pursuit of the cut that our moissanite has its brilliance.
The general cut of moissanite is 57 facets, our moissanite is 105 facets. The more facets are cut, the more refractive angles, thus more fire. The more facets, the more refractive angles, the more brilliant the diamond is. The precise symmetry of the refraction angle makes the diamond's fire more brilliant.
we have chosen the best US moissanite in the world, however, the differences in the fire presented by the different cuts are very significant.
35 years of experience in the Belgian diamond cutting process allows us to understand diamonds better. The pursuit and respect for sparkling light, the insistence, and efforts for a super high standard of cut that makes our brilliant moissanite diamonds.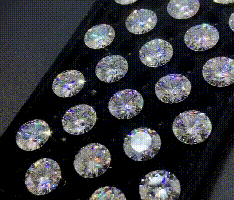 Premium quality built from the inside out.
Shipping Time
🔥Our current turnaround time is running 3-5 business days due to our products are all handmade. Although some of the items are made ahead, due to the high volume of orders, shipping times are longer than usual. If I have the item ordered in stock I will mail it out as soon as possible!
🚀Standard shipping is $5.99 and takes about 10-15 business days after shipment.
😉Thank you for your patience. Please let us know if you have any questions.