Mascara is harming your lash hair — the damage mainly lies in the removal process.
STOP DOING IT!
The Magnetic Eyelash Kit with revolutionary multi-magnet technology. Lashes that every fashionista should know about.
Employing 4-6 smaller, virtually invisible magnets.
Magnets are strategically embedded end to end for complete magnetic contact.
Lashes lay down seamlessly along the natural lash line and don't flare out.
Increased smaller magnets offer a more secure hold.
Magnets have a less noticeable appearance and zero flare-out.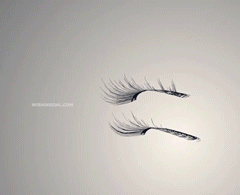 Just place and press, simply effortless. the magnets of the top lash lock with magnets of the bottom lash and you are good to go for the day! Easy as 1, 2, 3!
No adhesive is needed. Lashes stay put until you're ready to remove them. Re-useable.
SAY GOODBYE TO CRAZY EXPENSIVE ESTHETICIAN'S PROCEDURES! Enjoy the benefits of long-lasting and reusable lashes.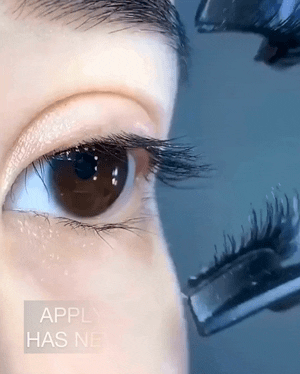 BABYGIRL✨Short Round (8mm-12mm)
Get ready to be spoilt! The Babygirl lash has the power to get you just about anything. It is a wispy round lash that looks very natural on the eye and feels super lightweight as well. It is made from a high-quality synthetic fiber and is therefore 100% vegan. The lash also comes with 4 lash anchors that can strengthen the hold of your lash and keep them in place all day long.
VIRGO✨Short Wispy (12mm)
No-nonsense, pristine, and practically perfect — just like an IRL Virgo — these natural magnetic lashes will be your go-to for every occasion. They're our most natural-looking vegan lash, perfect for the office, school, or brunch with friends.
BIRTHDAY BI$H✨Long Cat Eye (6mm-14mm)
Be the center of attention even when it's not your party! Birthday Bi$h is our volume-packed, super glamorous lash, perfect for a celebration. She has an ultra-wispy cat eye shape that adds a hint of allure to your look, while still looking classy and elegant. Vegan-friendly, they're made from synthetic fibers that look and feel like mink. This winged lash is the ideal shape for round eyes to beautifully sculpt and accentuate your iris.
SPECIFICATIONS:
Material: High-Quality Synthetic Fiber
Contains 4-magnets for maximum hold, trimmable to any length
Comes with lash anchors to strengthen the hold of your lash
Comes with a special magnetic case for safe-keeping
Reusable up to 60 times
Package includes eyelash curler
How to use 3D Magnetic Eyelashes:
1/ Hold the top lash over your eye.
2/ Position the top part of the magnetic lash on top of your eyelash.
3/ Make sure the top part of the magnetic lash is stable then get the bottom part.
4/ Place the bottom lash so that it connects with the top lash leaving your natural eyelash in between.
In this way, applying magnetic eyelashes is like a piece of cake - Just attach, clip & release!
it features 2 functions - Applying magnetic eyelashes & Curling. The curvy clamp design is also for further curling after applying magnetic eyelashes.
Engineered with soft magnetic strips, never hurts your eyelids while protecting your fragile eyelashes.
FEATURES:
2-in-1 Lasher
Apply magnetic eyelashes while lifting/ curling lashes in a second!
Strong Magnetic Force
Magnetic strips automatically attach magnetic eyelashes at the correct angle. Easy to grab and remove eyelashes.
Easy to Use
Shorten your eye makeup routine by simple steps: Attach, clip & release!
Safe to Use
Ergonomically designed with a soft magnetic strip to avoid hurting your eyelids while protecting your fragile eyelashes.
Universal
Fits any eye shape & works with any magnetic eyelashes.
Durable
Made of premium Chemical fiber.
💖Support small brand
We are a small family business. My aunt Jenny is very good at customer service because she is always nice to people. So if you have any questions, feel free to ask her at support@flexehag.com. If you do have any questions you'll be talking to someone who really knows just about everything that's going on!
⚡Click the ADD TO CART button before we sell out.

Shipping Time
🔥Our current turnaround time is running 3-5 business days due to our products are all handmade. Although some of the items are made ahead, due to the high volume of orders, shipping times are longer than usual. If I have the item ordered in stock I will mail it out as soon as possible!
🚀Standard shipping is $5.99 and takes about 10-15 business days after shipment.
😉Thank you for your patience. Please let us know if you have any questions.