RING INFORMATION
Metal: Silver
Rhodium finish: Yes
ACCENT GEMSTONES
Type: Moissanite
shape shape: Round
1 lab-grown moissanite diamond (Weight: 1 Ct)
16 lab-grown moissanite diamonds (Weight: 0.2 Ct // Color: G-H // Clarity Rating: I2)
Setting: French pavé
Cut: Round brilliant cut
Diamond authenticity approved by IGI
At our design studio, our team designs every ring to delight you, from the first time you see it and every day after. We carefully consider the entire piece—obsessing over comfort, quality, and durability so you can cherish it for a lifetime.
Lab-Created: Yes.
The term "lab-created" refers to synthetic gems that have the chemical and physical properties of natural gems but are manufactured in a laboratory instead of naturally formed and mined.
With the Heart & Arrow cutting effect, every diamond restores the item's natural beauty and extreme brilliance. We use four-claw inlay technology. The shiny diamond is firmly embedded, reducing the risk of the diamond falling.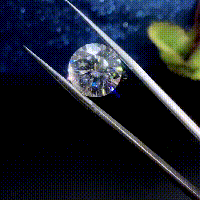 About Moissanite
It's Not Diamond. It's Moissanite.
Using innovative, cutting-edge technology we have been able to create Moissanite that cannot be differentiated from diamonds by the naked eyes.
What Makes Moissanite So Special
Unscratchable, And can live for a lifetime.
Diamonds are the hardest known mineral and receive a 10 on the Mohs Scale of Hardness.
On the Mohs scale, Moissanite scores 9.25 - 9.50. Because of this exceptional score, Moissanite is very durable and ideal for everyday wear.
More brilliant than diamond itself.
Unbelievably, Moissanite is more brilliant than Diamond itself with a refractive index of 2.62 that can make it shine like you never seen before. Diamond refractive index is 2.42.
Cannot be differentiated from diamonds with the naked eye Yet Moissanite is Only 1% - 10% Of Diamond Price!
Moissanite is very rare in nature. Our Moissanite is a Lab-grown gemstone and has zero affiliations with the conflicted history of Diamond.
Diamond mining causes environmental devastation. There are many unethical labor practices and violence.
We've Got You Covered!
Flexehag is dedicated to creating and delivering socially-responsible gemstones and fine jewelry that lasts a lifetime. Part of our promise is to provide a first-rate customer experience by making products that exceed expectations.
💖Support small brand
We take pride that our jewelry is produced with exceptional standards that allow us to go with such policies with confidence.
⚡Click the ADD TO CART button before we sell out.

Shipping Time
🔥Our current turnaround time is running 1-5 business days. Although some of the items are made ahead, due to the high volume of orders, shipping times are longer than usual. If I have the item ordered in stock I will mail it out as soon as possible!
🚀SPEEDY SHIPPING. No one likes waiting. To your door and it's fast.
😉Thank you for your patience. Please let us know at support@mail.flexehag.com if you have any questions.